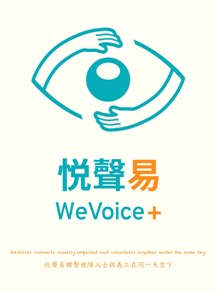 Providing real-time support to people with visual impairment on descriptions of visual information through video calls
Through enhancing its existing mobile app, namely WeVoice+, the project team targets to enable people with visual impairment (VIs) and elderly with a weak vision to seek instant support online when they encounter difficulties in their daily lives.
In addition to the existing function of providing textual or audio descriptions of pictures to the VI users by trained staff, volunteers or artificial intelligence, a new function "real-time video call" will be developed. VI users can make video calls via the app to get real-time and one-on-one assistance from trained backend staff who will describe the visual information to the VI users.
Four underprivileged or disabled people will be recruited and trained as backend staff. They will receive 12-hour tailor-made professional audio description training and undergo a practicum to learn how to communicate with VIs and help them to complete tasks in daily life.
Through its NGO partners, the project team will recruit 180 VIs who will enjoy the real-time video call support function for free for ten months. Other users can also use the same function by paying a monthly subscription fee.